We have lots of fun fall pictures to share. Lots of different costumes for all the different Halloween events.
First up was B's school parade. She was Sully from Monster's Inc. (thanks to her cousins for this hand me down).
Then we had Trunk or Treat at the big girls' school. Greta was a peacock, Eloise a vet, Beatrice a ninja turtle, and Felicity a dinosaur. I think the only new costume was the peacock and that came from our church's consignment sale.
Next up was Canal-o-ween, where there are a bunch of pumpkins available for carving. Then they display them along the canal for a week near Halloween. This was our first year going to the carving event. It was fun, and the girls enjoyed trying their hand at carving.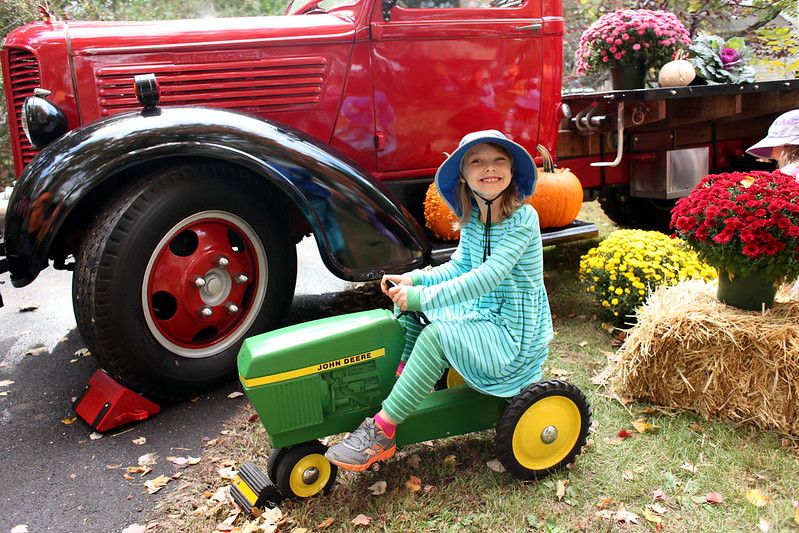 Then, we came home and carved our pumpkins.
Greta and Eloise also had a school parade. Beatrice and Felicity also dressed up to walk with their sisters, but wouldn't walk and Felicity wouldn't let me put her down, so no pictures of her (she was a black cat). Eloise was a vet again, Greta was a rocket ship and B was her astronaut.
On Halloween we had a trunk or treat at our church. New costumes again. Greta was Batgirl, Eloise a sailor, Beatrice Minnie Mouse and Felicity a ladybug. Everyone was over the pictures.
And lastly we had regular trick or treating. Everyone was the same thing, except Felicity, who got scared of the face paint and refused to be put down. We used a too small monkey costume and she became a monkey on my back. Daddy dressed up this time as well, as a physics professor.
In order to ensure we didn't get too much candy, we pretty much bought candy once and then gave away what we collected at each trunk or treat. Then we kept the candy we got on Halloween night. (Well, we are actually donating most of it to the soldiers instead of keeping it).
Beatrice, Felicity and I went on a walk in the woods last week.
Matt raked together the few leaves we have in the backyard for the girls to play in.
and phew, that was a lot of pictures. I'm sure there will be more soon as my sister gets married very soon!